1

Run the iTOUGH2 with command line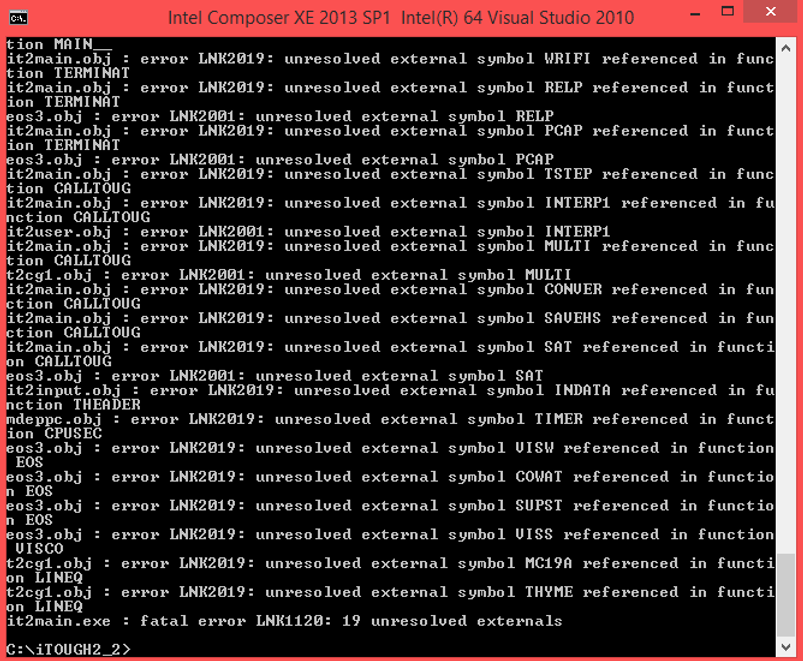 Hello,
I'm student, and a beginner. Now I'm doing a research about multi phase flow analysis.
I try to learn about iTOUGH2 with eos3 but I have problem to running it (like the image attached ), I didn't change anything in the original code. I use Intel Fortran Compiler and run it with command line. I have followed the instruction in the "read me" file even though the version is a little bit different. I have also looked for ways to overcome the LNK2019 and LNK2001 problems, but I haven't found the answer. It hasn't worked until now.
So maybe I can get the answer of that problem by discussing in this forum.
Many thanks,
Mara
TIMER seems to be a subroutine that should be provided with via the compiler libraries and is not found (could be something old or a different compiler). If you are using ifort, try to substitute the CPUSEC subroutine from the mdeplinux.f and recompile. If that works maybe use the entire mdeplinux.f instead of mdpeppc.f?

This is the CPUSEC from mdeplinux.f I have - (hopefully it is alright to
share like this 

Stefan

 ). The line numbers are extra.

 59 C
 60       IMPLICIT NONE
 61 C
 62 C --- Transfer variables
 63 C
 64       REAL*8  SS
 65 C
 66 C --- Functions
 67 C
 68       REAL*4  ETIME
 69 C
 70 C --- Local variables
 71 C
 72       INTEGER ICALL
 73       REAL*4  S,SA
 74
 75       DIMENSION SA(2)
 76
 77       DATA ICALL/0/
 78
 79       ICALL=ICALL+1
 80       

S=ETIME(SA

)
 81       IF (ICALL.EQ.1) S=0.E0
 82       SS=S
 83       END
 84
 85 C --  End of CPUSEC

But I have another issues to running the sample problem. I followed the instructions, but it gave errors like the images below. I have executable file as "eos3.exe". In the 1st picture, actually the sam1p1i already in the directory. For the 2nd picture I tried some ways, and it still same. What command should I use to run it in ifort??